Creativity is intelligence having fun. – Albert Einstein
This Week's Update: The Value of Simplicity in Complex Times
Our past few newsletters have dealt with the challenges coming with the deprecation of the third party cookie and what marketers need to consider for long term performance, and the introduction of the concept of the "Data Bureau," which we believe holds the new model for data in this changed landscape. We focused on the technological and economic dimensions of these efforts.
This week we would like to focus in on the value and importance of simplicity in the application of data to marketing, and in the entire dimension of execution. The truth is, the advent of programmatic and data-driven targeting has introduced complexity of technology and process that has slowly divided the discipline of marketing from its primary and original purpose: to deliver powerful creative messages. Complexity has eroded the impact of many CMO's creativity.
"The risk is that CMOs have been increasingly focused on the process of programmatic display ads rather than doing what they were trained. A CMO needs to be leading the process of marketing, of which developing creative content to resonate with target audiences is the primary focus" observes Allen Shapard, partner at Broadreach Partners, a branding and marketing consultancy.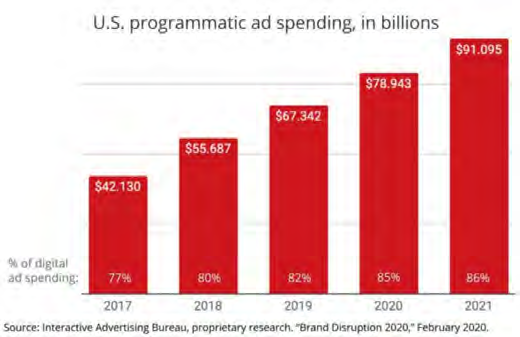 We all know that programmatic advertising is not slowing down. IAB estimates that it has now exceeded 85% of all digital ad spending and is continuing to grow. That being said, if CMOs are overly focused on process, it will be hard to extract the best return on their marketing spend. It takes both "right place" and "right offer" to succeed.
We believe that technology – the right technology delivered in the right way – can be a force for simplicity that helps reunite CMOs with their true creative calling, which is also their competitive advantage.
At the core of driving simplicity are two key elements: Having a clear identity resolution process so that you can treat customers and prospects consistently and correctly and effectively measure outcomes; and focusing on the few data elements that describe an individual that matter in segmenting your messaging. Together these two elements help shift your marketing efforts from a reactionary black box marketing process to one of proactive brand message journeys. There certainly is a place for the black box, when you have a vast array of products that you want to sell directly and immediately, but there is also a place from brand building and proactive journey management that needs to take place. Driving this idea of simplicity within the complex is what we are trying to do at Adstra through our Data Bureau approach. Let's together elevate the CMO's creativity to the forefront.
Should you look for more help on this topic, please reach out and we would be happy to help. Email us at connect@adstradata.com
Adstra in Action:
To date some 50 organizations have engaged with our non-commercial COVID-19 offering and we are here to help as many more as we can. While we are focused on advancing the fight against COVID-19, if you are interested in other non-commercial cause related initiatives, please let us know and perhaps we can help.
If interested in Adstra's offer, email COVID19Response@adstradata.com for more details.
Articles of Interest:
Our insights are again only a small fraction of what is being shared out there. Here are some other interesting articles and opinions we thought to share to both inform and inspire discussion.
We typically like to share thought pieces from others in the industry, but this week, we want to start off with one from our own CEO Rick Erwin that just appeared in AdExchanger. Reaction has been very positive on looking at the bigger picture
"Forget your cookie Nostalgia"
MarTechAdvisor's Lipi Khandelwal shares her insight on some of the disruptive trends taking place in the world of programmatic advertising
"Top 12 Programmatic Advertising Trends for 2020 and Beyond"
Salesforce Datorama shared some interesting perspectives in MarketingWeek that caught our eye and talk to how to rethink the use of data post lockdown
"Unified Data: Key to understanding post lockdown consumer trends"
Always looking to understanding the state of things. Marketing Drive has put together a nice summary of some of the key stats in marketing for the first half of the year
Key H1'20 Marketing Stats
Positivity Press:
We can all use a little positivity in life. Here are some of the recent highlights from our internal Positivity Press that we wanted to share with everyone:
We often like to start the positivity by heading over to the Good News Network. This week they highlighted Anchorage, Alaska as one of Reader's Digest's "50 Nicest Places in America."
With Warm Hearts…
Major League sports is returning. Perhaps not as we had all expected or hoped, but sports is slowly returning to the airwaves. Soccer, Golf and NASCAR have been at it a while and now we are adding the MLB (7/23 start date), the NBA (7/30 start date), WNBA (late July start date), the NHL (9/1 start date), and the NFL (9/10 start date), with all the pre-season work and training camps open throughout July. Game On.
When Sports will Return
Looking for activities for your kids while you are busy at work and the heat of the summer has your kids back inside. Eventbrite has done a great job highlighting online events that will surely bring a smile to your kids.
Online Events for Kids
When my kids were off at summer camp back in the day, one thing that always brought a smile to their face was Garfield… Never can get enough of that crazy lovable cat.
Garfield Strip
As always, we are forever striving to provide useful, fun and actionable info that can help us all move forward successfully. Feel free to share feedback and ideas and we can share them with this community. Stay happy and healthy.
If you want to continue to get a copy of our "Ideal Insights" newsletter, please make sure to add this newsletter's email address to your contacts.
If you think others may be interested in getting a copy of this newsletter, please have them email us at connect@adstradata.com and we will add them to our list. You can also find copies of this and previous newsletters at Adstra's website: adstradata.com
If you like what Adstra has to share or want to learn more about what we do, please visit our website at Adstradata.com or follow us on LinkedIn @Adstra or Facebook @Adstradata. We welcome you to the new ideal in data.