"Tell me and I forget. Teach me and I remember. Involve me and I learn." – Benjamin Franklin
This Month's Update:
As marketers we all understand the importance of continuing to keep up with the ever-evolving media channels and the capabilities needed to drive our marketing campaigns and evaluate our return on ad spend. Additionally, we must adjust our approaches and messaging to match the expectations of the consumers with which we are interacting. Behind all of this is the need to understand and apply data in the context of each media channel and the understanding of the audiences that are being marketed to. In the world of direct mail and email, this understanding is relatively straight forward. With the growth of digital advertising and programmatic display, things got a little more complicated. There are contextual considerations in messaging and a more limited understanding of who the individual is being marketed to that exist. But over the last decade, marketers have made good progress in learning how to work with the digital ecosystem with a certain level of success. Now comes our next big challenge to grapple with…. Advanced Television.  Looking at advertising spend projections, Advanced TV is one of the faster growing media channels, with expectations that spending will exceed $40bb in the next 5 years. To reach consumers, an Advanced TV strategy will be critical to all marketers.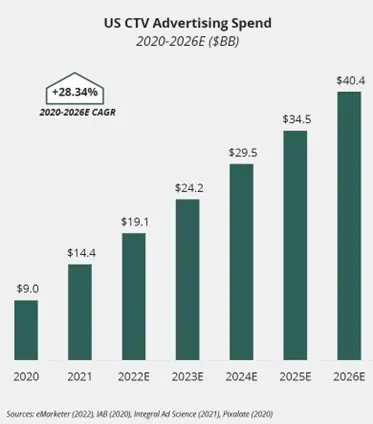 Some may say Advanced TV is just another extension of digital advertising, but in reality, it is not. Advanced TV advertising is as different to programmatic display as programmatic display is to a billboard sign. Personalization and targeting require integrated video, and content delivery requires the successful integration of multiple players, each looking to grab a piece of the ad spend. To be successful, it is important for marketers to recognize and understand the differences of Advanced TV if they want to get the most out of what Advanced TV offers.
The biggest challenge of the Advanced TV ad market is ownership of the ad moment and ability to deliver a targeted ad through the active technology. Essentially there are 5 different players looking to create targetable audiences and serve ads. The players include: Streaming Apps, Broadband, Set-top-box providers, Gaming and streaming devices, and finally the Smart TV manufacturers. Each of these players has some understating of who the consumer is and is competing with one another to win the opportunity to serve an ad. As a marketer, you can actually find yourself bidding against yourself if you are working with each of these players to deliver an ad.  As each player has limited insight or control, it is impossible, nor not in their interest to cap serving an ad to a customer if another player has already served it. Over time, the marketplace will work through the challenges of building an efficient bid market, but one thing has become clear. Success will require that brands create the ability to understand and manage their customer identity in order to both avoid overserving ads to consumers and to measure the effectiveness of the ads served. In the short term, recognition of the channel chaos will go a long way to helping avoid inefficient ad spending.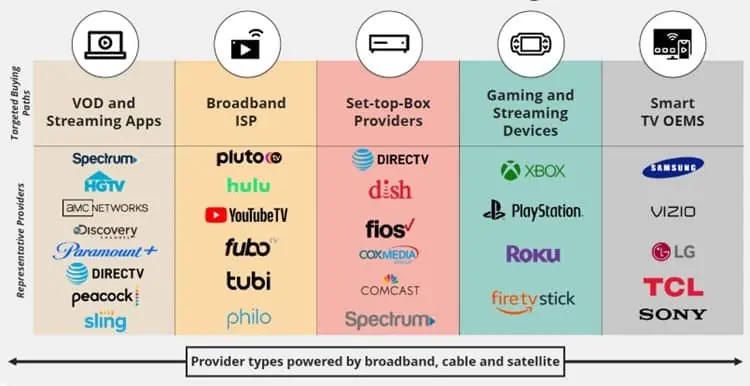 Privacy highlights:
Sixteen Democratic Senators sent a letter to the FTC "to request additional information on what steps the Federal Trade Commission (FTC) is taking to ensure that data brokers are not collecting, buying, or selling sensitive location data that put people, particularly those seeking medical attention, at risk." CNBC andBusiness Insider covered the request.
Politico reviewed the potential risks of sensitive data being accessed and offered tips to those seeking to protect their information from being collected.
The United States and a dozen initial partners launched the Indo-Pacific Economic Framework for Prosperity. In a fact sheet on the initiative, the White House said, "We will work with our partners to seize opportunities and address concerns in the digital economy, in order to ensure small and medium sized enterprises can benefit from the region's rapidly growing e-commerce sector, while addressing issues such as online privacy and discriminatory and unethical use of Artificial Intelligence."
The New York Times reported on the efforts by countries to protect personal data of their citizens, stating "the era of open borders for data is ending."
The New York Times' technology newsletter noted agreement on core principles and potential progress towards the enactment of a federal data privacy law.
The Senate confirmed Alvaro Bedoya to serve as FTC Commissioner. Vice President Kamala Harris cast the tiebreaking vote. Bloomberg Law explored the potential impact on data privacy rules.
Access Now, Free Press, and UltraViolet delivered thousands of petition signatures to the FTC calling on the agency to initiate a privacy and civil rights rulemaking.
The FTC voted on unanimously on May 19th to update COPPA.
Connecticut Governor Ned Lamont signed data privacy legislation into law. The ANA renewed its call for a federal privacy statute that would override state measures. "The emerging patchwork for state laws does not protect all consumers and will create a compliance nightmare for U.S. business," the group's Chris Oswald said.
CBS News covered California's consideration of legislation to enact a Age-Appropriate Design Code modeled on rules in place in the UK.
NAI released a new resource, "Best Practices for User Choice and Transparency," to inform companies about the practice of "dark patterns" and to share best practices to avoid them. MediaPost highlighted the publication.
Facebook faces new challenges over the Cambridge Analytica data breach as the Washington, D.C. Attorney General has filed a new lawsuit over Facebook's lax handling of its customer data.
We encourage you to also visit our content blog where you can get the latest news and thoughts on industry issues. While you are there, please also check out our website to gain a clearer understanding of Identity, Data, and all the services we have to offer.
Should you look for more help on these topics, please reach out and we would be happy to help. Email us at connect@adstradata.com
Articles of Interest:

Our insights are again only a small fraction of what is being shared out there. Here are some other interesting articles and opinions we thought to share to both inform and inspire discussion.
The cost of data privacy violations is heating up. Earlier this month, more than 1.4 million long- and short-term residents of Illinois started receiving checks for up to $397, as compensation for a $650 million class action lawsuit settled against Facebook. Expect more settlements from Facebook, Google, Shutterfly and other to come soon.
Users get checks from data violations at Facebook, other Tech firms next
Marc Rossen, SVP investment and activation analytics at Omnicom Media Group offers an interesting perspective on the need to find a solution to integrate clean rooms. Yes they offer many advantages, but if every player brings their own clean room to the table, how do clean rooms work together. We couldn't agree more on the challenge. It's one of the use cases our platform Conexa solves for.
Beyond clean rooms, brands need clean houses
Gaming has historically been an ad-free zone – but that's changing with investment and infrastructure integrating with the most popular titles. Media buyers are excited by the opportunity to reach a whole generation of consumers who aren't available on TV channels. John McCarthy and Chris Sutcliffe at The Drum begin the exploration of this new media channel for marketers.
In-game advertising shows potential
A strong marketing strategy is one of the key components of building a successful company. Despite its importance, it is also one of the elements of business that companies most often struggle with. Sergio Alvarez at entrepreneur talks to the 5 common mistakes marketers should be on the look out for to drive longer term success.
5 Common mistakes Marketers should be aware of
With the demand for data privacy increasing, the time that brands have to respond to privacy issues and data requests is rapidly decreasing. Nathan Eddy at CMS Wire discusses how CMOs need to incorporate the changes in consumer sentiment around privacy into their go to market approaches.
CMOs must focus on security and consumer attitudes shift
Positivity Press:

We can all use a little positivity and fun in life. Here are some of the recent items we wanted to share with everyone:
Having a morning routine is essential to cultivating self-discipline and staying grounded. So says Mindful coach and Harvard MBA Zee Clarke. Routine is essential to cultivating self-discipline and staying grounded as you take on the day.
4 things to do every morning to be more productive
It is never too late to being making your bucket list. Here's a great list of things you can consider in your 20s, or if you simply want to remember what it felt like to be in your 20s. Never say never.
We live in a world with many perspectives. It seems over the last few years those differences have done a lot to divide us. Life is better when we find bridges to work together and enjoy the diversity we all bring to the table. We encourage everyone to invest in understanding each other as it truly does make life better and happier.
Engaging friends with different views
It has been great to follow all the college championships. From softball, baseball and track, to golf, tennis, and lacrosse, the fields of US colleges are back and full of cheering fans. Here's hoping your favorite school is having a successful spring. Even if they are not involved, it  has been great to watch the competition.
If you think others may be interested in getting a copy of this newsletter, please have them email us at connect@adstradata.com and we will add them to our list. You can also find copies of this and previous newsletters at Adstra's website: adstradata.com
If you like what Adstra has to share or want to learn more about what we do, please visit our website at Adstradata.com or follow us on LinkedIn @Adstra, Twitter @Adstradata or Facebook @Adstradata. We welcome you to the new ideal.