"If you don't mind it, it doesn't matter." – Jack Benny
This Month's Update:
Our focus this month continues to be on the evolution of how brands and agencies are thinking about the need to take control of their customer identity management in response to the changing marketing ecosystem, customer expectations, and privacy regulations. There is a rapid realization that brands can no longer turn to their agencies to address the challenges identity is playing in their marketing execution and experience management. Identity management is too critical to any brand's long-term success. What was only a short time ago thought of as a privacy management issue has now grown into a larger challenge of meeting new business demands.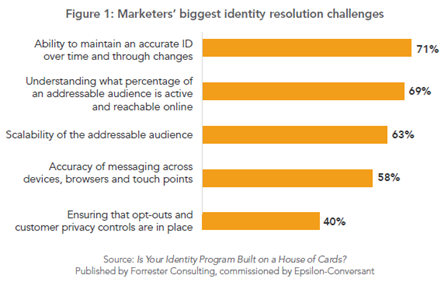 Forrester's recent report "Is Your Identity Program Built on a House of Cards?" found that Privacy control now rates 5th on the list of Brands identity resolution challenges. Top of the list at 71% of respondents listed was the simple (or not so simple) task of maintaining an accurate customer ID internally over time given all the changes we are all facing. Understanding what audience is reachable online came in 2nd at 69%. These challenges of course are only going to become more significant as market data deprecation advance.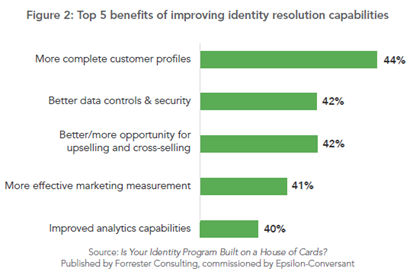 In last month's report, we shared the IAB's recent report that showed that only 8% of Brands saw ID resolution as a critical issue. These sentiments appear to be changing though as Brands begin to understand the benefits to them as they resolve their current identity issues. The same Forrester reported that Brands are seeing the importance of understanding customer engagement and maintaining data control in order to facilitate both up/cross-selling and measurement.
For us at Adstra, we are focused on helping Brands understand both the impact of identity on outcomes and the transparency of how identity is being used in their execution processes. To start that conversation, we have broken Brands' marketing efforts into 5 key processes. Historically these 5 key processes were handled independently and at a broad audience level. Panel-based data was used by most media channels to infer tactical results and were more focused on enabling an audience media buy and measuring brand sentiment vs an effective segmented audience targeting capability and assessment of ROAS. Going forward, success will be driven by a far more people-based marketing approach. People based helps brands drive greater consistency of cross media messaging while enabling an increase in the variety of offers made.
Top 5 Marketing Processes: A shift to a people based marketing approach


Benefits of a People/ DTC based approach vs the historic approach:
Campaign Objectives:
More accurate segmenting and market sizing
More effective audience insights
Improved test plans and campaigns
Creative Development:
Creative elements can be isolated and optimized using designed experiments at the individual consumer level
Research more granular
Audience Targeting:
More granular segments means less wasteful media plans
People-based data versus Proxy data
And matched against addressable platforms
Media Activation:
Paid media campaigns executed against verifiable audiences
Same exact audience can be reached in any addressable medium
Measurement & Optimization:
Improved MTA and MMM
More comprehensive match-back analytics between all partners in the ecosystem
Privacy highlights:
Nationally:
Senator Jerry Moran reintroduced the Consumer Data Privacy and Security Act. "More and more Americans are recognizing the need for a clear federal standard for data privacy that guarantees them the ability to determine how their personal data is used," said Senator Moran. "Americans need to be able to count on strong baseline responsibilities that businesses must uphold when collecting, processing and protecting their personally identifiable information. Without action from Congress, consumers will continue to be vulnerable to future threats against their personal data, and innovators and job creators will be plagued with regulatory uncertainty resulting from a growing patchwork of state laws," Moran said. National Retail Federation, Main Street Privacy Coalition, BSA – The Software Alliance, NTCA – The Rural Broadband Association, Garmin and the Kansas City Tech Council support the bill, according to Moran.
ANA called on Congress to set a national privacy standard by passing a strong, preemptive federal privacy law following the failure of bills in legislatures in Florida and Washington State. ANA Group EVP of Government Relations Dan Jaffe commented, "the pressure that state legislatures are feeling to pass privacy laws is evidence of the need for leadership from Congress on this very important issue," adding further, "Congress must provide consistent federal privacy protections to consumers nationwide and create an environment where businesses can thrive." The group's press release mentioned its support for Privacy for America.
An opinion column by an editorial writer at The New York Times called for regulation of "dark patterns" on the Internet. "Without such uniform federal legislation, a patchwork of state rules could lead to varying levels of enforcement and definitions of dark patterns — potentially creating more confusion for consumers and opportunity for unscrupulous businesses," the column said in reference to a Senate bill that is expected to be reintroduced.
State-level:
The Florida legislature adjourned without passing data privacy legislation. The House failed to take action after a revised bill without a private right of action passed in the Senate earlier in the week. The Wall Street Journal, Tampa Bay Times, Florida Politics, and other outlets reported the news.
The Washington Privacy Act died as the state legislature adjourned without reconciling different versions of the data privacy legislation.
The 4A's, AAF, ANA, IAB, and NAI sent letters to legislators in Alaska and New Hampshire to oppose data privacy legislation
As we are constantly trying to feed helpful content out to our client community, we encourage you to visit our content blog where you can get our latest thoughts on industry issues. While you are there, you can also check out the new look and feel of our website. Our goal was to provide a clearer understanding of Identity, Data, and all the services we have to offer.
Should you look for more help on these topics, please reach out and we would be happy to help. Email us at connect@adstradata.com
Adstra in Action:
Last month our Spotlight was on Mental Health Awareness. This month we want to highlight that June is both LGBTQIA+ Pride month and includes the celebration of Juneteenth.
If you want to learn month about either of these celebrations, you can go to the following links:
LGBTQIA+ Pride month: https://www.loc.gov/lgbt-pride-month/about/
Juneteenth: https://www.history.com/news/what-is-juneteenth
As a company we have identified two spotlight charities this month to focus on to support:

The Trevor Project: The leading national organization providing crisis intervention and suicide prevention services to lesbian, gay, bisexual, transgender, queer & questioning youth. For volunteer opportunities (crisis counseling) please go to – https://www.thetrevorproject.org/get-involved/volunteer/

PFLAG: Founded in 1973 after the simple act of a mother publicly supporting her gay son, PFLAG is the nation's largest family and ally organization, with over 400 chapters and 200,000 members and supporters. To learn how to get involved and advocate for PFLAG, you can go to: https://pflag.org/advocacy-101
Articles of Interest:

Our insights are again only a small fraction of what is being shared out there. Here are some other interesting articles and opinions we thought to share to both inform and inspire discussion.
As we have pointed out the desire on many brands part to want to in-house their identity management, Dom Nicastro's article continues the discussion across all marketing operations.
What's the best approach for in housing marketing operations
According to a NASSCOM report, brands are investing a large percentage of their marketing budgets in technology, and 52 percent of enterprises plan to continue increasing their martech expenditure in 2021. Moneka Khurana does a nice job laying out the drivers of change we are all facing.
Changing marketing dynamics in a data-driven world
Third-party cookies may be on the way out in Chrome, but that doesn't mean the end of data-driven advertising. There are still many other types of audience data that marketers will have at their disposal, including identity graphs and consented third-party data, household-level data, second-party data, contextual data, cohorts and, of course, first-party data, including login data. Check out Allison Schiff's latest views on what each offering brings
The growth of connected TV (CTV) has been a rousing success story; unfortunately, fraudsters have noticed. As advertising budgets shift to CTV, alleviating safety concerns becomes increasingly paramount. The folks at Verizon Media have some views on the subject that are worth reading
Positivity Press:

We can all use a little positivity and fun in life. Here are some of the recent items we wanted to share with everyone:
As we head into Memorial Day, it great to see that the symbol of our country, the Bald Eagle, is on the rebound. Once on the verge of disappearing from our skies, the Bald Eagle population has quadrupled in the last decade
As we all look to promote a culture of greater inclusiveness, it's great to see Sesame Street continues to invest in the education of our children with the addition of two new black Muppets. The new Muppets were introduced as part of the "ABCs of Racial Literacy"
Sesame Street debuts two new black Muppets
This summer, New York City will launch the nation's largest and most comprehensive workforce development program for at-risk LGBTQ youth. NYC Unity Works, a $2.6 million initiative is targeted at young adults ages 16 to 24 who are homeless or at risk of experiencing homelessness.
NYC launches largest work program for LGBTQ youth
While we are certainly more focused on the success of the new Covid-19 vaccines that have rolled out over the last few months, there is also great news for asthma sufferers as researchers have made some great breakthrough on a new vaccine that would help them overcome the challenges of asthma
__________________________________________________________________________________________________________
As we have said before, we continue to strive to provide useful, fun, and actionable info that can help us all in some way. Feel free to share feedback and ideas and we can share them with this community. Stay happy and healthy.
If you want to continue to get a copy of our "Ideal Insights" newsletter, please make sure to add this newsletter's email address to your contacts.
If you think others may be interested in getting a copy of this newsletter, please have them email us at connect@adstradata.com and we will add them to our list. You can also find copies of this and previous newsletters at Adstra's website: adstradata.com
If you like what Adstra has to share or want to learn more about what we do, please visit our website at Adstradata.com or follow us on LinkedIn @Adstra, Twitter @Adstradata or Facebook @Adstradata. We welcome you to the new ideal in data.