Spring: a lovely reminder of how beautiful change can truly be." – Unknown
This Month's Update:
There have been numerous Year End trend reports published, summarizing what nonprofits experienced in their 2020 Acquisition results. Most of the studies we agree with, others we simply do not. So, we took a look at the performance of Adstra clients in the nonprofit sector, and here is what we found: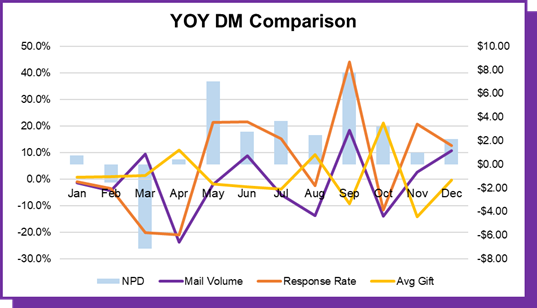 No surprise, we saw a significant drop in response in March, as the Covid-19 pandemic became widespread. April reflected the large cutbacks in volume, followed by continued softness in response. Then something interesting happened… a major rebound in response in May-July. These positive trends continued through most of the year. In the end, with all the downs and ups, our nonprofits stayed the course, keeping volumes steady, and benefitting with stronger response, increased average gift, and a 15% improvement in overall Net Per Donor.
So far, in 2021, we are seeing these strong trends continue, and have built growth plans for several of our clients in order to "ride the wave". At the same time, we are acutely aware that we may return to pre-covid results sometime this year. For all of us, it will be critical to closely monitoring "early warning signals" (early campaign performance reports/daily cash receipts) and utilizing "conservative factors" in your 2021 plans. It is a balancing act… capitalizing on strong global performance, while being prepared to "pivot" (the 2020 word of the year) when we see signs of slower response.
Given the positive feedback we got from our last insights on privacy, we thoughts we would also provide a bit more on that front:
Nationally:
Google's plan to eliminate cookies is a source of concern for investigators at the U.S. Department of Justice who are asking questions about the potential impact of the move, according to Reuters. "There is a weaponization of privacy to justify business decisions that consolidate power to their business and disadvantage the broader marketplace," said Chad Engelgau, chief executive of Interpublic Group of Companies Inc's ad data unit Acxiom.
In a poll of U.K. and U.S. consumers by Measure Protocol, the majority (70%) of people said they want greater control over their data and how it is shared. Individuals (53%) were more concerned about their online privacy than they were one year ago. Respondents said they would be willing to share more data if transparency was prioritized (65%), if they felt their privacy was protected (57%), and if they were being paid fairly (72%).
State Level:
Texas and other states suing Google amended their antitrust complaint to add claims that the company's plan for cookie-less targeted ads is "anticompetitive" and "will further expand the already-dominant market power of Google's advertising businesses."
Tennessee: Republican legislators introduced new data privacy legislation. The Tennessee Information Protection Act would require technology companies to fully disclose what information is being collected from consumers through online services. "The legislation requires online platforms to disclose up-front exactly what personal information will be collected and how they intend to use it. Tennesseans will have the ability to "opt-out" of the selling of their personal information to third parties without discrimination," said a release from Representative Jeremy Faison's office.
Should you look for more help on this topic, please reach out and we would be happy to help. Email us at connect@adstradata.com
Adstra in Action:
Last month our ask was to get everyone involved with the Smithsonian, volunteering to help transcribe historical content at the National Museum of African American History & Culture so that it can be shared more broadly. Thanks to everyone who supported this great cause.
This month our Spotlight is focused on getting prepared for National Volunteer Week, April 18-24th. There are a great many places to help out, but we have a suggestion. To get started we are asking everyone check out:
Points of Light

At Points of Light, we believe that we are at the dawn of a "Civic Century," an age when people become the driving force that transforms our world. We believe when future generations look back on this time, they will see it was an era of sustained, meaningful civic engagement.
Click Here to find out more on how you can help.
We also continue to make our data available for free in the support of any non-commercial cause related initiatives like the fight against COVID-19, please let us know if you have interest and perhaps we can help.
If interested in Adstra's offer, email COVID19Response@adstradata.com for more details.
Articles of Interest:

Our insights are again only a small fraction of what is being shared out there. Here are some other interesting articles and opinions we thought to share to both inform and inspire discussion.
We could not be in more agreement with Rachel Parking at Café Media… building out stronger sales capabilities as brands are looking to shift to more DTC efforts is a survival path for many publishers
Publishers should go long on Sales
If expanding publishers' sales capabilities is important, then NBCUniversal has certainly taken this to heart with their new 'all-screen commerce' initiative. Kendra Clark breaks down the essentials of what NBCU is up to. Andrew Blustein talks to the launch of NBCU ID as a key enabler to their commerce/ ad platform. All this follows NBC's long history of pushing new ways to monetize content media, starting with the 1st TV ad on July 1st, 1941 during a Dodgers/ Phillies game.
NBCUniversal's 'all-screen commerce' initiative
NBCUniversal wants to be a Tech company too
If you are not sold on the commerce model, then consider the content subscription model. IBM and its Weather Channel have spent the last 18months leaning into this. A prime motivator has been the concerns around future concerns on identity and the ability to sustain ad revenue streams long term.
The Weather Company leans into subscriptions
With all the changes in technology and data regulations, many companies are once again looking to understand the benefits behind their data driven efforts. While not new, it is important to go back an connect the dots of investment to outcome and results. Here's a great reminder on where you should be looking.
4 Ways Big Data can help your marketing success
Positivity Press:
We can all use a little positivity in life. Here are some of the recent highlights from our internal Positivity Press that we wanted to share with everyone: Cheers.

So spring is here, a vaccine is here and so is a stimulus check for many of us. Certainly a light at the end of the tunnel. And while we continue to support the need for everyone to stay diligent in their safety and the safety of others by wearing masks, washing hands, and keeping safe distances when in public, we also support stepping back and feeling positive about the progress we are making. You should also feel good about the financial relief you get from the government. Here's some thoughts on how to use the money wisely.
7 ways to spend your stimulus check
What do you think about a 4 day work week? After having seen the world working from home for the past year, expectations have shifted a bit and Spain is looking into making a 32 hour work week the norm. Here are 10 reasons in favor of the change.
Spring is here. The world is starting to open up a bit more… What are some fun activities to do with the kids. Here are some suggestions we thought you might enjoy.
As we have said before, we continue to strive to provide useful, fun and actionable info that can help us all in some way. Feel free to share feedback and ideas and we can share them with this community. Stay happy and healthy.
If you want to continue to get a copy of our "Ideal Insights" newsletter, please make sure to add this newsletter's email address to your contacts.
If you think others may be interested in getting a copy of this newsletter, please have them email us at connect@adstradata.com and we will add them to our list. You can also find copies of this and previous newsletters at Adstra's website: adstradata.com
If you like what Adstra has to share or want to learn more about what we do, please visit our website at Adstradata.com or follow us on LinkedIn @Adstra, Twitter @Adstradata or Facebook @Adstradata. We welcome you to the new ideal in data.