"If you tell the truth, you don't have to remember anything." – Mark Twain
This Month's Update:
We are all keenly aware of the on-going changes surrounding state and federal regulations pertaining to customer privacy rights. And while we may debate the merits of these regulations and the benefits or loss they may bring the end consumer, there is little doubt that it is the actions and tactics of marketers that have given rise to growing customer dissatisfaction and political response in turn.
The challenge for all parties is that there is not always a clear line of what is right or wrong in the eyes of the individual consumer, and it only takes a few bad apples to radically change consumer sentiments. Top of the bad apple pile is Cambridge Analytica and their 2018 collapse following their data use breach of some 87 million Facebook users. Their actions triggered an international questioning of how personal data was being collected and used across the marketing ecosystem, one which has ensnared good actors along with the bad.
The more specific challenge for marketers was that there was no clear answer or guidelines that the industry could point to that ensured and maintained consumer trust. In many cases, the new power of big data so excited marketers about the possibilities of what they could do, it often clouded their judgment on what they should do. The ends certainly did not justify the means in the eyes of the consumer, and the promised value exchange of free content on the internet for marketing access seemed to no longer be in balance in the eyes of most consumers. We don't know where the line is, exactly, but we know that it has been crossed.
So how do we as marketers begin to earn the trust back of consumers? Step one is to remember to put the customer first and understand how marketing affects them, both directly and indirectly. It's about adhering to a level of ethics and accountability that customers expect. Most importantly it's about being transparent and consistent in the actions and commitments you make to the consumer.
The following represents a list of 10 considerations that marketers should consider in their treatment of consumers as defined by the ANA Ethics Council, which we here at Adstra are proud to be part of.
An ethical and accountable marketer:
Is committed to customer satisfaction, good corporate citizenship, and responsible environmental, community, and financial stewardship.
Clearly, honestly, and accurately represents its products, services, and terms and conditions.
Delivers its products and services as represented.
Communicates in a respectful and courteous manner.
Responds to inquiries and complaints in a constructive, timely way.
Maintains appropriate security policies and practices to safeguard data.
Provides information on its policies about the transfer of personally identifiable data for marketing.
Honors requests not to have personally identifiable data transferred for marketing.
Honors requests not to receive future solicitations from the entity.
Follows the spirit and letter of the law and the ethical guidelines established by their industry associations
Being accountable to the individual is one of the driving forces behind our decision to develop a people -based approach to our Conexa platform. As marketers we are not looking to honor the rights and wishes of a hashed email, but rather the rights and wishes of the individual behind that hashed email. That is the only way we are going to start to rebuild consumer trust as marketers.
Privacy highlights:
Our current position on the federal privacy legislation called the American Data and Privacy Protection Act (ADPPA):
At this time, we are appreciative of Congress' willingness to take a bipartisan approach to consumer privacy legislation. Recent developments were positive with both parties making significant progress towards passage of the American Data and Privacy Protection Act (ADPPA). Progress includes legislative draft changes from an opt-in to an opt-out federal consent regime to more reasonable interpretations of "sensitive data". While we are looking forward to continuing positive developments for consumers and our industry with this proposed legislation, this remains a very fluid and uncertain process.
Other privacy news:
An editorial in The Washington Post said the American Data and Privacy Protection Act "isn't perfect, but it's better than good, and it deserves the backing of today's holdouts."
The Subcommittee on Consumer Protection and Commerce of the House Energy and Commerce Committee held a hearing on data privacy legislation on June 14. Privacy for America said it "welcomes the hearing and continued engagement" by the Committee on data privacy legislation.
Senators Elizabeth Warren, Ron Wyden, Patty Murray, Sheldon Whitehouse, and Bernie Sanders introduced the Health and Location Data Protection Act, legislation that bans data brokers from selling Americans' health and location data. The bill would also provide $1 billion in funding to the Federal Trade Commission over the next decade to carry out its work, including the enforcement of the new law.
Connecticut Governor Ned Lamont signed data privacy legislation into law. The new law takes effect July 1, 2023.
Canada's government announced legislation to strengthen data privacy rules and impose the highest fines for violations among G7 nations. The proposed Consumer Privacy Protection Act would establish penalties of C$25 million ($19.4 million), or as much as 5% of global revenue, whichever is greater, for companies that breach privacy rules.
European Commission Vice President Vera Jourova said "targeted improvements" are now needed to the GDPR "in the age of tools such as Pegasus " spyware. "I want to be honest with you, we are at the crunch time now," she said. "Either we will all collectively show that GDPR and its enforcement is effective and fit for purpose or others will do it for us." EU Justice Commissioner Didier Reynders said at the same event in Brussels that while more targeted improvements could bolster enforcement, he warned against declaring the situation "a crisis" or "as a reason to scratch completely the system."
We encourage you to also visit our content blog where you can get the latest news and thoughts on industry issues. While you are there, please also check out our website to gain a clearer understanding of Identity, Data, and all the services we have to offer.
Should you look for more help on these topics, please reach out and we would be happy to help. Email us at connect@adstradata.com

Our insights are again only a small fraction of what is being shared out there. Here are some other interesting articles and opinions we thought to share to both inform and inspire discussion.
Some might think what Google and Microsoft have proposed with FLOC and Parakeet are solutions to consumer privacy. Ghostery CEO Jean-Paul Schmetz has a different view. Just like the tobacco companies redirected attention away from the fact that cigarettes cause cancer, the big tech companies are doing much the same around consumer privacy.
Google & Microsoft "Redirecting Attention" Away from Privacy
After some time off, Marketers were back in the South of France to celebrate the Cannes Lions International Festival of Creativity. It was great to see so many people out and about connecting and sharing ideas. And while there was a lot to discuss, the leading theme was how brands and agencies were looking to create lasting platforms that allow them to create a positive impact with consumer lives. Against that backdrop, 5 ideas were presented that best live up to this theme.
Top 5 Winning Campaigns from Cannes
Beyond celebrating the top campaigns at Cannes, we also learned about the shifts that are taking on in the ad industry. As Kenneth Hein, of The Drum shared, top consumer-focused agencies were talking about the bottom of the funnel. Something he never thought he would ever hear, but it reflects the shift in consumer engagement to be far more DTC focused than ever before.
Last month we talked a bit about the emergence of Advanced TV. For those still looking to better grasp what it is and how it works, Alyssa Boyle at AdExchanger does a nice job of breaking it down for folks.
The privacy landscape is a complex one, but Trishla Ostwal takes a good shot at explaining some of the key state level variances that Marketers should know about. Spurred on by CCPA, states like Virginia, Utah and Colorado are pushing forward with their own versions of privacy.
A Marketer's Guide to Statewide Privacy Laws

We can all use a little positivity and fun in life. Here are some of the recent items we wanted to share with everyone: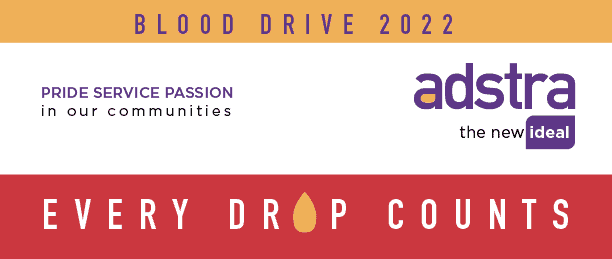 Life can certainly be busy, but one simple way to give back is by donating blood or helping those support blood donation. A simple act that helps save lives. At a time when the blood supply is critically low, now is the time to contribute. For us here at Adstra, we have made blood donation an internal goal all summer and we hope everyone will join us. There are three different ways you can choose to help:
♥ Blood donations:
A single pint can provide red cells, platelets, and/or plasma, meaning a single donation can be used to save up to three lives. Do something amazing today – become a blood donor, be someone's hero!
Check the blood donor eligibility requirements and pledge to give, here.
♥ Monetary donations:
Every drop and penny counts! We understand there are some who may not qualify or prefer not to give blood. Make an impact via Adstra's American Red Cross Fundraiser. Donate here.
♥ Volunteer your Time and Talent at a local ARC blood drive.
Click here to sign up!
It appears being the last one picked can offer the inside track to winning. Just last month we had Rich Strike, a last minute sub-in, win the Kentucky Derby, and now we have Ole Miss winning the College World Series. Noted as one of the "Last 4 in" when the 64 teams were first announced, Ole Miss downed Oklahoma 4-2 to capture their first NCAA baseball championship. Congrats to Ole Miss.
June is Pride Month, and there is a lot to celebrate. We continue to evolve as a community that is more open and accepting of all those around us, and a community that celebrates our differences. NBC's Today show has done a great job bringing together stories of so many journeys.
If you think others may be interested in getting a copy of this newsletter, please have them email us at connect@adstradata.com and we will add them to our list. You can also find copies of this and previous newsletters at Adstra's website: adstradata.com