You don't have to see the whole staircase, just take the first step." – Martin Luther King
This Month's Update:
First and foremost, we want to wish everyone a happy and healthy holiday. It appears the virus has found a way to dampen some of our activities, but not our spirit. We remain grateful to all our partners and readers and wish them all continued success and inspiration as we make the turn into 2022.
As for our finish to 2021, it seems as though the spirit of giving is stronger than ever before as seen by the results from this year's Giving Tuesday. Donations overall were up 9% and over 6X from just 3 years ago. The increase was seen not just in donations, but also in volunteering (up 11% annually) and Gifts of Goods (up 8%). Most important to us though is the increase in levels of participation. We saw 35 Million adults participate in Giving Tuesday this year, a 6% increase over 2020, and a great sign that we are all looking out for each other in these times of challenge.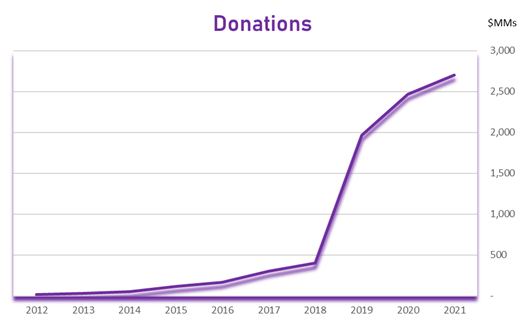 While these numbers represent the broader nonprofit wide view of Giving Tuesday, we here at Adstra also looked at what we saw at a client level by sector. As we might have expected, we saw significant increases across the health and disease related sector. We were also happy to see increases with all our clients focused on cultural related causes. Where we saw challenges was in international relief related causes, with only 17% of our client base seeing year over year growth in donations. It does suggest that folks are focusing on issues and people that they see and touch on a more personal level.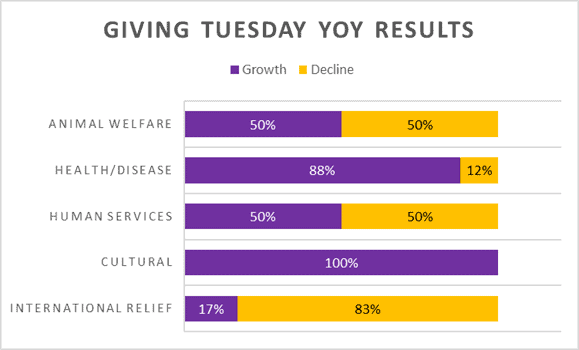 Beyond Giving Tuesday, we have also been looking closely at the trends we are seeing in nonprofit direct mail response rates. We did see incredibly strong results early in 2021 but are starting to see a return to "normalcy" as we assess July and August campaign results. Overall, still above 2019 performance, but not seeing the surge we did in late 2020 and early 2021. Suggests that nonprofit organizations may need to increase testing levels to ensure their message is remaining effective and to look across media to create more integrated, surround sound messaging to their prospects. It is important to note that we do not see the shift in response rates as a migration to alternate channels, but rather a reduction in the capacity to give overall.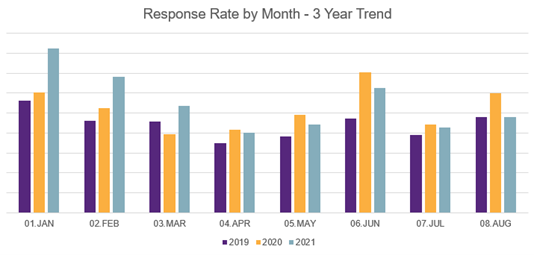 Privacy highlights:
As we close the year, we reflect a bit on how the year transpired from a privacy perspective. We are also proud of how many predictions we made that we got right. Top of the list of course was our prediction at the end of 2020 that Google would back off their push on 3rd Party cookie deprecation and as we saw they did. The Ad ecosystem needs to remain open to all to participate and Google's approach to cookie deprecation was an attempt to use privacy as a means to gain greater control. 2021 saw governments across the globe take notice of Google and Facebook's noncompetitive practices with new regulations and anti-trust lawsuits being filed to begin to reshape their impact. We have also most recently seen news publishers unite to fight the Google/ Facebook duopoly as over 200 publishers have joined force in their antitrust lawsuit. Hopefully in 2022, we will see the US Federal government step in on the regulation front to establish common and open practices through which the Ad ecosystem can operate. We can all agree that 50 states with 50 different sets of rules is not how the internet was set up to work.
We encourage you to also visit our content blog where you can get the latest news and thoughts on industry issues. While you are there, please also check out our website to gain a clearer understanding of Identity, Data, and all the services we have to offer.
Should you look for more help on these topics, please reach out and we would be happy to help. Email us at connect@adstradata.com

Our insights are again only a small fraction of what is being shared out there. Here are some other interesting articles and opinions we thought to share to both inform and inspire discussion.
It isn't often we highlighted an article that we penned, but given the highly positive reaction, we wanted to make sure everyone saw the article written by our CEO Rick Erwin that talks to the end of Onboarding and the rise of Enterprise Identity… It's time for brands to be in control of their customer dialogue.
Born a Decade Ago, the Data Onboarding Business is Ready for Retirement
As an identity solution provider, we are all in on Marketers taking greater control of their customer data and touchpoints. The editors at MarTech Series have done a nice job laying out some of the tips marketers should be thinking about as they approach managing and using 1st Party data.
1st Party Data Optimization Tips
It seems like the recent trend of digital media mergers is continuing with Vox Media's acquisition of Group Nine. With DotDash acquiring Meredith and Buzz feed adding Complex and HuffPost, we are seeing a rapid consolidation across the digital media landscape in an effort to gain scale and compete with the likes of Google and Facebook.
What the Consolidation Trend Means for the Digital Marketplace
Seems like the world of connected TV is growing up fast. With AVOD (ad-based video on demand) streaming picking up, tech players like Samsung are ramping up ad targeting capabilities on their TV platforms.
Enhanced ad targeting, coming to a TV near you

We can all use a little positivity and fun in life. Here are some of the recent items we wanted to share with everyone:
Omicron may be slowing down some of the traditional activities you had in mind for the end of the year but teach create motivate had some fun ideas you can use to stay safe and still enjoy the end of the year with your kids.
7 Ideas for virtual end of year activities
It's not just about the kids. As adults we are always looking for ways to engage in activities that make us happy and healthy. If you haven't tried it, meditation offers some great tools. (And feel free to check out or CEO Rick Erwin when he sat down with Mindful CEO Bryan Welch to talk about meditation and its impact)
Can never get enough of our friends at the Good News Network. Always full of great and inspiring stories. It was December 20th, 75 years ago when the iconic It's a Wonderful Life premiered in New York. Still a story we can all enjoy to lift us up.
Finally, we continued our more than two-decade tradition of the Adstra Holiday Gift Fund. This year, our company and our associates showed support for a wide group of organizations dedicated to making the world a better place of caring and inclusion. Since its inception, the Fund has contributed more than half a million dollars to these wonderful charities. This year, we set another annual record, raising an unprecedented $63,257.50. Like everyone else, Adstra is committed to making our world a little better each day.
We continue to strive to provide useful, fun, and actionable info that can help us all in some way. Feel free to share feedback and ideas and we can share them with this community. As always, be healthy and happy.
If you like what Adstra has to share or want to learn more about what we do, please visit our website at Adstradata.com or follow us on LinkedIn @Adstra, Twitter @Adstradata or Facebook @Adstradata. We welcome you to the new ideal