"A life is not important except in the impact it has on other lives." – Jackie Robinson
This Month's Update:
The ability to effectively recognize and target a customer is becoming harder every day despite the continuing improvement of data and technology. New government regulations, shifting consumer expectations, and the specter of big tech control have all made things more complex and more difficult. These political and behavioral trends have offset raw technological innovation in such a permanent way that marketers must now find new approaches in how they engage with their customers that is both effective and honors those customers' expectations.
Marketers cannot afford to make do with a range of quick and easy alternatives that are so quickly being offered today. The resurgence of contextual data, probabilistic cohorts, and media mix modeling represent steps backwards from the current state of technology. They threaten dilution in value and data loss, they are less precise and accountable, but most importantly, these methods threaten to further separate the brand from its customer. With the continued diversification of media, from streaming TV, podcasts, gaming, and newer virtual reality environments, the challenge of a consistent customer relationship is becoming more complex every day. At the core of many of these challenges is the loss on the part of Brands to consistently understand the identity of their customers across media and activate their messaging in a consistent and compliant manner. Brands must find a way to harness the power of identity in a manner that preserves privacy, transparency, and control.
With this challenge in mind, Adstra has worked hard to develop a solution that does exactly what marketers need to address these challenges. A solution that secures the ability to continue to effectively message customers in the face of constant regulatory and security changes, media diversification, and the risks around the deprecation of 3rd party cookies.  Our solution is CONEXA, the 1st Enterprise Identity Platform. Designed to work behind a Brands existing firewall and with their existing technologies, CONEXA is the new ideal in identity.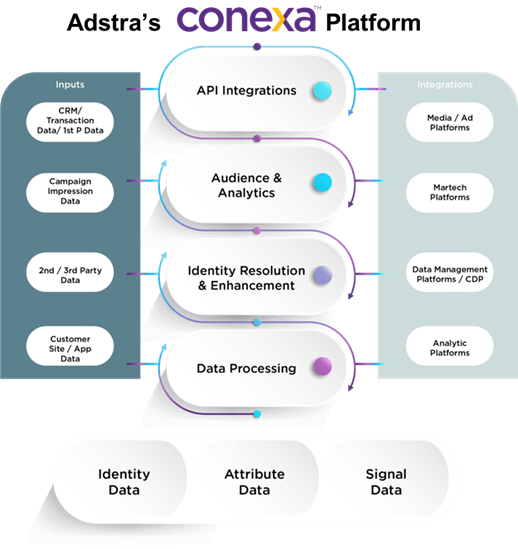 It brings the identity challenge back to its starting point, the individual.  Most of today's approaches to identity start with an identifier such as an email hash, digital cookie, or terrestrial address. Over time, these identity "signals" fade and lose accuracy. The one consistent is the individual themselves. With CONEXA the individual is validated as existing, thus avoiding any fake audiences, and all identity signals are connected directly to the individual. As signals change or added over time, the key associated to the individual remains persistent. The breadth of connected signals allows brands to end the digital divide. Individuals exist not separately in the digital or terrestrial world, and neither should a Brand's marketing campaigns. Data unification, identity resolution and customer experience management all become all become far easier and more accurate when identity is resolved to the individual. More importantly, Brands are now able to effectively control every customer engagement, delivering better messaging and adhering to communicated expectations. By installing the platform behind a Brand's firewalls, data security and customer privacy risks are significantly reduced. Fewer handoffs of data and full visibility of where your customer data resides is a goal all Brands should focus on.
Privacy highlights:
An analysis of the 2022 revenue impact from Apple's privacy changes found the change to have a total impact on companies of about $16 billion — up 9% from previous estimates.
FTC Chair Lina Khan criticized certain data practices and called for a "new paradigm" for regulating data practices. "The general lack of legal limits on what types of information can be monetized has yielded a booming economy built around the buying and selling of this data," she said, decrying what she called a business model that "seems to incentivize endless tracking and vacuuming up of users' data." "I'm concerned that the present market realities may render the notice and consent paradigm outdated and insufficient," she said. Instead, Khan suggested, regulators should consider whether more data collection practices should be restricted or prohibited altogether. Only taking notice and consent into account, she said, ends up "sidestepping more fundamental questions about whether certain types of data collection and processing should be permitted in the first place."
Apple CEO Tim Cook called on Congress to enact data privacy legislation and opposed the Open Apps Market Act, arguing that the "regulations that could put our privacy and security at risk" and enable "data-hungry companies" to track users and collect their information against their will.
Microsoft's Brad Smith encouraged members of Congress to compromise to bridge differences to enact comprehensive data privacy legislation. "The United States increasingly stands alone, and the fact of the matter is, in my view, there's a critical element that we are failing to think about in the United States," he said. "It's that the failure of the United States to legislate doesn't stop global regulation. It doesn't even slow it down. It just makes our country less influential in the world."
Several company representatives at a conference discussed the challenges of complying with COPPA. "Self-regulation has helped [implement] COPPA over the last 20 years," said BBB's Dona Fraser, who noted that BBB National Programs has conducted more than 200 investigations since the law was passed. By comparison, she claimed, the FTC has conducted less than 40.
Colorado Attorney General Phil Weiser has launched a QR code campaign to gather feedback from stakeholders on the state's data privacy law.
Data privacy legislation being considered in Connecticut passed out the Judiciary Committee. CT Insider quoted testimony from the advertising trades opposing the bill. "As presently drafted, S.B. 6 contains provisions that could hinder Connecticut residents' access to valuable ad-supported online resources, impede their ability to exercise choice in the marketplace, and harm businesses of all sizes, including tens of thousands of jobs tied to the advertising industry in Connecticut, that support the economy," 4A's, AAF, ANA, IAB, NAI, and DAA argued in written testimony. The bill is also opposed by other business groups in the state.
The California Privacy Protection Agency announced plans to gather stakeholder input on topics related to its upcoming rulemaking, beginning May 4. Sessions will be held via videoconference. Sign-ups will be accepted until close of business April 22.
We encourage you to also visit our content blog where you can get the latest news and thoughts on industry issues. While you are there, please also check out our website to gain a clearer understanding of Identity, Data, and all the services we have to offer.
Should you look for more help on these topics, please reach out and we would be happy to help. Email us at connect@adstradata.com
Articles of Interest:

Our insights are again only a small fraction of what is being shared out there. Here are some other interesting articles and opinions we thought to share to both inform and inspire discussion.
Mastercard chief marketing officer and president of the World Federation of Advertisers Raja Rajamannar is certainly one on the forefront of the challenges marketers face in the future around data privacy and the metaverse. In this article he spells out his views on balancing relevance with consumer privacy, the role of blockchain in creating a better, more ethical marketing ecosystem and the future of the metaverse.
Mastercard CMO…The next three years will be chaotic
Seems the new term floating around Washington is "Surveillance Advertising". Marketers looking to drive personalization and contextual messaging are pushing more and more into a customer surveillance mindset. Is that acceptable? Sarah Sulis's Adexchanger article sheds light on the discussion on Capitol Hill.
With more and more people working from home now, the separation between our business lives and personal lives is dissolving, driving new patterns and behaviors in how and when they shop. Laurie Sullivan dives into Microsoft's recent study on the pandemic's affect on media usage and purchase behaviors.
Workday Consumers driving shift in media budgets
While Big Tech has been working to continue to consolidate their position and control, the government has slowly caught on to the impact they are having on competition in and open online marketplace. Wired's article takes a look into how the American Innovation and Choice Online Act has Big Tech's attentions and threatens their long term dominance.
The Senate Bill that has Big Tech Scared
And in case you missed it, we had one of our thought pieces recently published in AdWeek. This time we discussed how marketers' issues of privacy, transparency and control can all be tackled with the use of and Enterprise Identity Solution.
Tackling the Issues of Privacy, Transparency and Control
We are also happy to highlight that Adstra and our Conexa platform was recently reviewed by Third Door Media in this year's Enterprise Identity Resolution Platforms: A Marketer's Guide. Click the link below if you like to get a copy and read up on how Conexa stacks up against the competition in the space of ID resolution…one of the capabilities any Enterprise Identity Platform should address.
Identity Resolution Platforms – MarTech Intelligence Report
Positivity Press:

We can all use a little positivity and fun in life. Here are some of the recent items we wanted to share with everyone:
Looks like Winter is behind us, and Summer is on its way. With the world slowly returning to normal, it's time to start planning for some fun in the sun this summer. Here's a list of 80 activities you might consider.
While not a traditional holiday filled with celebrations and friends, Earth Day has become one of the most impactful holidays of the year. Giving voice to the challenges we all face in making our planet healthier, Earth Day is a great reminder on how a small effort to start can lead to monumental positive change. Since it's start in 1970, we have accomplished a great deal to be proud of, though we have a long way to go.
If you think others may be interested in getting a copy of this newsletter, please have them email us at connect@adstradata.com and we will add them to our list. You can also find copies of this and previous newsletters at Adstra's website: adstradata.com
If you like what Adstra has to share or want to learn more about what we do, please visit our website at Adstradata.com or follow us on LinkedIn @Adstra, Twitter @Adstradata or Facebook @Adstradata. We welcome you to the new ideal.