June 15, 2021
In a cookieless environment, people-based marketing is table stakes. The forthcoming deprecation of the third-party cookie has given rise to a new ecosystem of identity solutions, each vying to provide a durable alternative to the cookie for the purposes of targeting and measurement.
The new identity ecosystem is complex, untested, and under constant change as privacy regulations and marketers needs evolve. At present, many marketers are struggling to understand where this growing list of solutions plugs into their efforts; which solutions work together seamlessly; and which solutions, by contrast, require additional translation and intervention.
With marketing spend shifting into digital channels, and the growing shift to DTC marketing—both accelerated by the pandemic—customer identity has emerged as a critical enterprise asset that brands must own and control. And yet, new privacy and security concerns have created paralysis among brands when it comes to managing, orchestrating and activating Identity for marketing purposes. The rapid proliferation of new identity solutions has generated substantial confusion and given brands little clarity on how to tackle the problem.
It's a multi-step process no matter what solutions brands choose. Solving for a cookieless future requires more than just integrating with universal ID or another major identifier. As marketers begin to tackle identity management, they will find that a multi-ID approach is virtually inevitable. With that approach comes challenges that emerge at every step, and gaps that still need to be addressed even when the IDs are in place.
In short, brands need to rethink the full scope of their marketing operations—digital and non-digital—from the ground up and isolate the specific functions and processes that will require new identity-driven solutions to function in a cookieless environment. But how?
Data gaps in the marketing process
It helps to recognize all the specific areas that depend on identifiers. Even before introducing the issues of cookie deprecation, today's approaches to identity management are primarily not "people-based." This results in several data gaps that lead to suboptimal marketing performance.
This lack of connection to an individual and instead a focus on panel-based, measured media is also why the impending data deprecation is creating a greater threat to today's marketing processes.


To solve these gaps, marketers must consider a number of identity data processes, accessible via multiple vendors. Today, on average, brands are sending their data to 4-plus point solutions to help build the full connection needed to support their broader omnichannel marketing needs. This multi-provider approach reduces transparency into the processes, functions and incentives of each provider. And that means marketers need to get accustomed to asking the tough questions.
The right questions to ask
There are numerous ways to look at how identity is resolved and managed in one's marketing processes. And while it is important to start with one's marketing processes to identify areas of needs, it is equally important to understand the tactical components of what vendors do.
Here are nine screening questions, covering each part of the marketing process, designed to help marketers get more informed about the available solutions.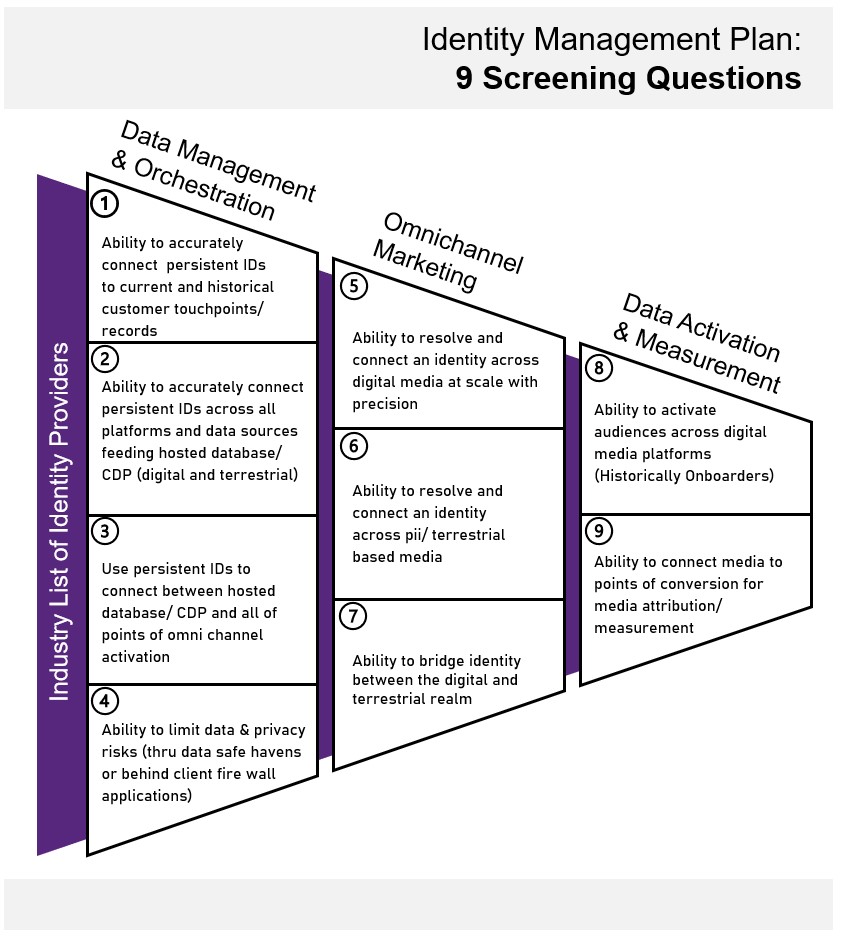 These questions are all driven by the need to assess the scale and reach of an identity provider in supporting your marketing activities. Scale and reach includes both audience access and marketing processes covered. With the ecosystem under constant change, it is also critical to understand the flexibility of each vendor, as well, to ensure long term operability and effectiveness.
Ultimately, brands will need to establish their own fluency with the identity ecosystem and how it operates. The forthcoming deprecation of cookies is a forcing function for this transition, but it is not the only incentive. The promise of people-based marketing, once reserved for early adopters and sophisticated advertisers, is now table stakes.
—