"There are many ways of going forward, but only one way of standing still." – Franklin D Roosevelt
Spring is here and the world truly is awakening anew. In that awaken is the realization that most everything has changed for marketers and advertisers from where we were a year ago. Consumer expectations and behaviors have undergone a profound change that has effectively reset much of our experienced based knowledge of what works and how things are done. Not surprisingly, marketers have had to adjust the tone, messaging, and placement of ads to reflect the new world in which we operate in order to maintain continued success. The bigger long-term impact on marketers, however, has been the rapid shift to a more customer engaged, Direct to Consumer interaction between Brands and their Customers. Even industries that once appeared immune to the digital shift, like grocery and convenience stores, are seeing consumers the DTC shift with the growth in Instacart and Fresh Direct. This shift has opened the doors to new competition for the traditional brick and mortar stores who are not flexible enough to make the change. Look how Chewy.com has used the pandemic to take control of the pet care vertical. The IAB has size the DTC market at 22k different companies, with 90% of them smaller lifestyle brands and 5% fast growing digitally native brands (DNVB), most of which are absorbing the $5+ Billion of venture capital funds that has been invested in this growing DTC opportunity.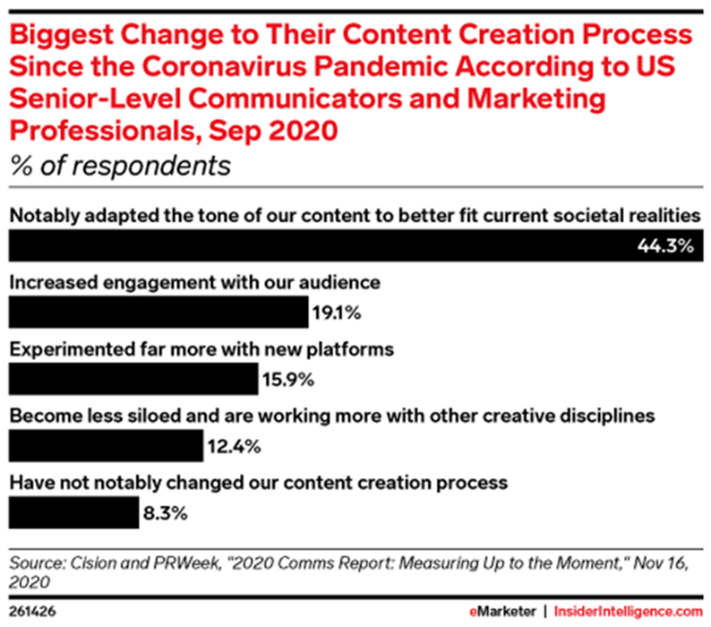 So, what are traditional brands to do about this shift. There are a few obvious first steps: build out or engage an ecommerce platform that enables an easy online shopping experience; and establish a back-end fulfillment solution that can deliver on consumer expectations. The other critical step to take is to get control of the conversation with your target customers. A direct conversation which requires a direct recognition of the customers you are marketing to. To do this, traditional brands need to understand the importance taking control of their ability to recognize customers at each point of engagement. How can you have an effective direct conversation without an effective identity management strategy? And yet, if we look at the IAB's recent State of Data survey, it is clear that Brands have not grasped the importance of identity. Of the Brands surveyed by the IAB, only 8% were prioritizing the issue of identity resolution with the impending loss of digital identifiers looming. The AdTech side has certainly gotten the message as 52% of those survey have made this a priority. The answer is to the question "Why", is that many brands are assuming that the agencies will figure out the identity challenge to make this all work. The reality is this is unlikely to happen. Google and their FLOCs may help create some form of targetable audiences, but we can not expect them to support the level of detail required to execute an effective DTC strategy. Every brand needs to take the step back today and ask themselves what the pain will be if they are forced to go back to the days of "spray and pray" marketing. We would suggest the answer is not a good one and that Brands need to invest now in a proactive identity management approach.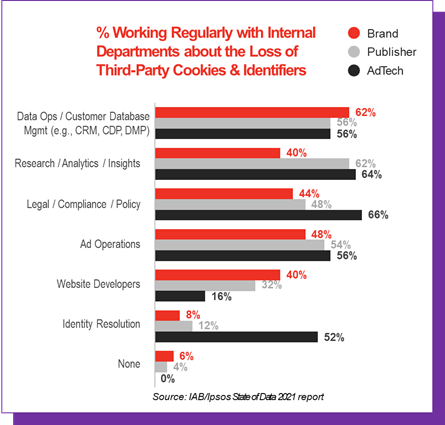 As we have in the last few updates, we wanted to share a few highlights from a privacy perspective. We will be starting to publish a broader set of thoughts each month as well separately, so follow up on one of our social handles or go to our page on The Drum for recent articles from Adstra at https://www.thedrum.com/profile/adstra/news.
Nationally:
Representative Suzan DelBene discussed her data privacy bill with GeekWire. "Technology has created incredible new opportunities, but our laws have not kept up," she said. "So it is incumbent on Congress to make sure that our laws keep up, that we protect people's rights in our changing world, and privacy is an important place to start" DelBene explained.
State level:
Florida: The House Commerce Committee in Florida advanced an amended version of data privacy legislation to the full House. William Large, president of the Florida Justice Reform Institute, said the bill opens up five new areas of consumer liability concerns for businesses, regarding potential data breeches, claims that a company failed to delete data, claims a company failed to correct data, the sale of data to other companies, and the sharing of data with other companies, Florida Politics reported. "All of those could lead to rights of action," Large said. "This is a very costly bill," Associated Industries of Florida said.
Illinois: A bill in Illinois would amend the state's biometric privacy law to give entities 30 days to correct potential infractions before a lawsuit could be filed unless there was a breach of the information. The bill would also extend additional protections to businesses adhering to certain data practices.
Oklahoma: Data privacy legislation in Oklahoma is dead and won't be considered until next year after it was not scheduled for a hearing in the Senate Judiciary Committee. The bill had passed the House 85-11. "Like Representatives West and Walke and Senator Montgomery, I am interested in the issues around data privacy. We must work together to identify exactly what problem we are trying to solve and make sure the solution does not have unintended consequences for entities who will find themselves subject to this law." said State Senator Julie Daniels, Chair of the Senate Judiciary Committee.
And on the amusing side, a survey by Security.org to test respondents' knowledge of their smartphone's management of their data found that 98% did not read a privacy agreement in which they agreed to give up naming rights to their firstborn child. Does raise a few questions on the tactical implications of privacy notices.
Should you look for more help on these topics, please reach out and we would be happy to help. Email us at connect@adstradata.com
Adstra in Action:
Last month our Spotlight is focused on getting prepared for National Volunteer Week, April 18-24th. As we are sending this month's note out during volunteer week, we hope you have all taken the opportunity to chip in where you can. This month we want to highlight that May is Mental Health Awareness month. Given all that we have been through this past year, Mental health has never been more important to all of us. While there are many opportunities to help out, one easy way is to sign up for a Nami Walk. This spring, all roads lead to NAMIWalks Your Way: A United Day of Hope with the destination as always being Mental Health for All.

Nami Walks

Locally, we here at Adstra are also focusing in on Easter Seals of NJ as an opportunity to start to come together for a positive cause as we look to transition back to community.
Click Here to find out more on how you can help.
Articles of Interest:
Our insights are again only a small fraction of what is being shared out there. Here are some other interesting articles and opinions we thought to share to both inform and inspire discussion.
To continue the discussion around the transition to DTC, check out what Artsy CMO Everette Taylor has to say about looking beyond the top of the funnel
Artsy's CMO On The Art – And Data Science – Of Looking Beyond The Top Of The Funnel
With all the talk about shifting to First-Party data, we might want to take a moment to reflect on what Robin Caller has to say… is this really the answer to our challenges ahead.
We need to talk about first-party data because it doesn't belong to you
Yes the Identity space is exploding as marketing looks to tackle the future. Worth taking a quick look at MMA Global and Prohaska Consulting has put together to start to map out all the players.
Confused about Identity? This list of 80 Identity partners may help
And in case you missed it, Britt Vatne has some great insights on what the looming postal increases might mean for our marketing efforts going forward
What looking postal increases teach about future of marketing
Positivity Press:
We can all use a little positivity in life. Here are some of the recent highlights from our internal Positivity Press that we wanted to share with everyone – Cheers!
How cool is it that we were able to successfully execute our first flight on Mars. If you haven't seen it yet, check out some of the amazing footage from Nasa and their Ingenuity Helicopter.
So was it luck or skill. If you did not see this video, check out this crazy pass from Villanova's Daniel Smith during a Spring football game this last week.
What are the greatest simplest pleasure in life. Check out this list and see how many of them you can work into your life.
Getting that Springtime itch. Here's a list of fun things you can do with your family while still staying safe.
41 Safe Family Activities for Spring
If you want to continue to get a copy of our "Ideal Insights" newsletter, please make sure to add this newsletter's email address to your contacts.
If you think others may be interested in getting a copy of this newsletter, please have them email us at connect@adstradata.com and we will add them to our list. You can also find copies of this and previous newsletters at Adstra's website: adstradata.com
If you like what Adstra has to share or want to learn more about what we do, please visit our website at Adstradata.com or follow us on LinkedIn @Adstra, Twitter @Adstradata or Facebook @Adstradata. We welcome you to the new ideal in data.